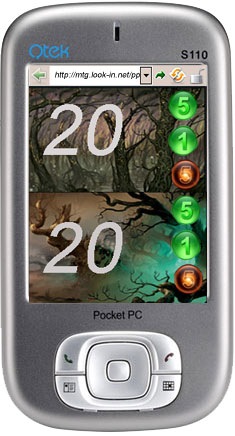 I made simple application for track life points during MTG match.
This is web application, designed for ppc screen resoultion (240×320).
I have tested (and using now) this application on Opera for Windows Mobile (v 8.60).
Features and usage:
1) Count life for two person
2) Decrease 1 life if you press on number
3) Increase on 5 and 1 life by green buttons
4) decrease 5 life by red-black button
You can download this application (http://mtg.look-in.net/ppc/mtg_lifecounter_v1.0.zip)  to you PPC, or use it from my server (http://mtg.look-in.net/ppc/counter.html).